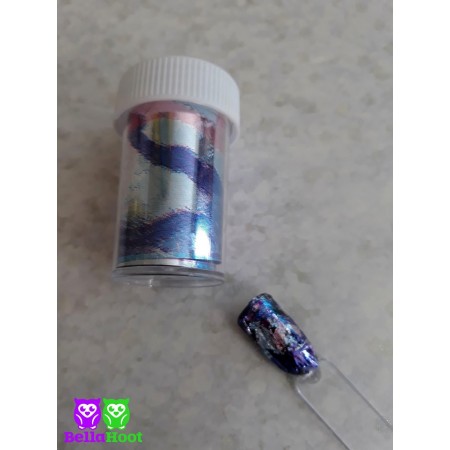 Nail Foil
Foil is 4x120cm. Colors may appear different in color on your nail than in powder form.
Application Video: https://www.youtube.com/watch?v=PP8mJulNOKg&t
Application Steps:
1.File, shape, and buff, and clean nail to prep
2.If using a polish base, apply polish and allow to dry. If you using a dip powder base, apply dip base coat. Dip into powder. Repease base/dip if desired. Apply activator. (do not use the top coat yet).
3.Once activator is dry, buff smooth if needed. Then apply a think layer of dip powder base coat.
4.Allow the base coat time to dry just enough to still be tacky.
5. Smooth the foil DESIGN SIDE UP onto the nail. Allow the base coat to dry a bit more before ripping off the foil.
6. Quickly remove foil.
If there are spots that the foil did not stick, check to see if your base is still tacky. If not apply a bit more base where foild did not sticl. Put the foil back down, smooth and rip off again.
7. Once you have the look you want with the foil, gently apply a thin layer of dip powder top coat.
RemovalSteps:
1.File or buff the shine or top coat off your nail.
2.Pour pure acetone into a shallow container and soak your nails for 10-20 minutes, then dry them with a paper towel. Or you can wrap each nail in a cotton ball soaked with acetone, then cover them with foil. You can check your nail after 15 minutes. If it is not sticky and soft, your nails need to soak longer.
3.Wash hands and apply nail oil.
Ingredients: Benzoyl Peroxide, Titanium Dioxide, Residual Monomers, Pigment.

How long will BellaHoot nail art last?
The fact is, every person is different and their daily routines vary, and will affect the length of their manicure. Following the preparation and application directions appropriately will help ensure a longer lasting manicure.
Base Coat, Top Coats, and Activators have a shelf life of up to 9 months. Once opened the dip liquid
shelf life may be shorter than 9 months. Powders may appear as a differnt color once applied.
The ingredients list was provided by our vendor. BellaHoot is not equipped to test these products to validate the ingredients but want to provide you with the description and information we have available to us.