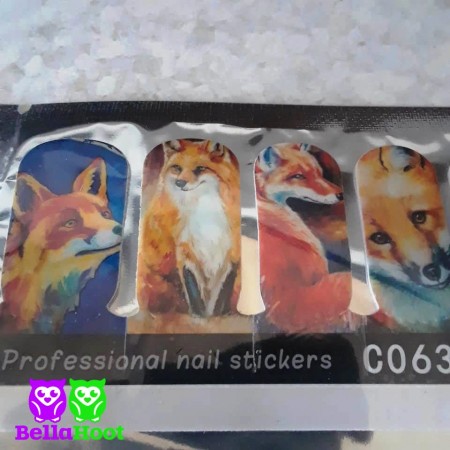 Nail Stickers
Nail Stickers are being discontinued. Discontinued items are not available for return/refund/exchanges.
ApplicationSteps:
1.Clean nails with alcohol. File and smooth nails.
2.Choose nail hoot of appropriate size.
3.Remove the transparent top layer and raise the nail strip.
4.Place the rounded side of the sticky side down. Firmly smooth the nail surface until wrinkle free.
5.Remove the needless nail strip with a file.
Please note that a clear top coat may help your manicure last longer.
To remove use your favorite nail polish remover.
Ingredients: Environmentally friendly printing ink and printing adhesive.

How long will BellaHoot nail art last?
The fact is, every person is different and their daily routines vary, and will affect the length of their manicure. Following the preparation and application directions appropriately will help ensure a longer lasting manicure. A clear top coat is highly recommended with our nail stickers.
Colors may vary slightly as device screens will differ.